Microsoft has created another mess of Windows Updates on Windows 10, although this time the update wasn't botched. According to user reports, Microsoft has started rolling out old and inappropriate drivers to some machines, including one of our devices from Asus.
Users are reporting that inappropriate driver updates are getting pushed to Windows 10 devices which aren't registered for the Insider program.
The update in the question is "Intel – System", which was pushed out last week alongside other optional driver updates for Windows 10 version 2004 (May 2020 Update).
We've also observed users report another bug where the same driver update will reappear for download after successful installation.
"I installed the 'Hewlett-Packard Development Company, L.P. – Keyboard – Standard 101/102-Key or Microsoft Natural PS/2 Keyboard for HP Hotkey Support" Optional Update that was available. Update History and Reliability Monitor confirm a successful update but it still shows up on the optional updates list," one user noted in the Feedback Hub.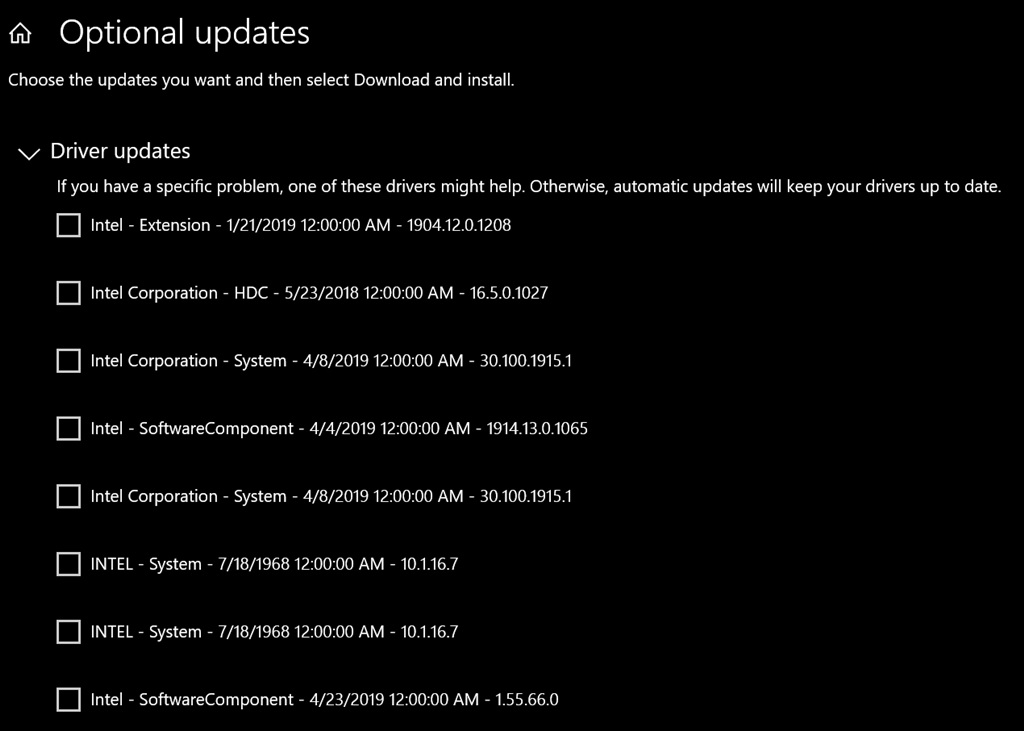 In some cases, Windows Update could also show old drivers, including drivers with a release date of 1968. Microsoft appears to be backdating drivers intentionally to avoid installation of Windows-provided driver when you have a custom manufacturer-provided driver.
@WindowsUpdate Windows update is offering this optional update: INTEL – System – 7/18/1968 12:00:00 AM – 10.1.15.6 Intel System driver update released in September 2020.

— DIRLAND (@Dir_land) September 26, 2020
If you do happen to see the 'Intel – System' or other inappropriate drivers displayed under "Optional Updates" section in the Windows Update page, don't install it.
In case the update has already been pulled by Microsoft, you shouldn't see it any longer anyway.
Unfortunately, if you've applied the driver updates, there's a piece of bad news – your device driver has been downgraded and you'll need to download the latest and most compatible version from the manufacturer's website.
Going by reports across the forums, those folks who have uninstalled the driver or skipped the update, haven't encountered any issues in doing so. Also, the update isn't being forced, so users haven't encountered any widespread problems.
That said, be careful when you use the Optional Updates screen in Windows Update and you're obviously doing updates it at your own risk.
The post Windows 10 is pushing old drivers updates that you should avoid appeared first on Windows Latest