Microsoft Edge has garnered quite a following after it was upgraded to the Chromium open-source platform and it's getting better in the latest release. Microsoft Edge is now getting a new feature that purportedly helps you find the best price for your items and apply publicly available coupons.
Microsoft Edge version 86.0.622.61 now comes with a new feature called "Shopping" and it's enabled by default, but it works on some websites only. In our tests, we found that the feature works only on popular platforms, such as BestBuy, Dell, etc.
The browser already allows you to compare price across multiple platforms using the Collection feature. After the update, you can now apply coupon codes generated by the shopping sites and coupon platforms.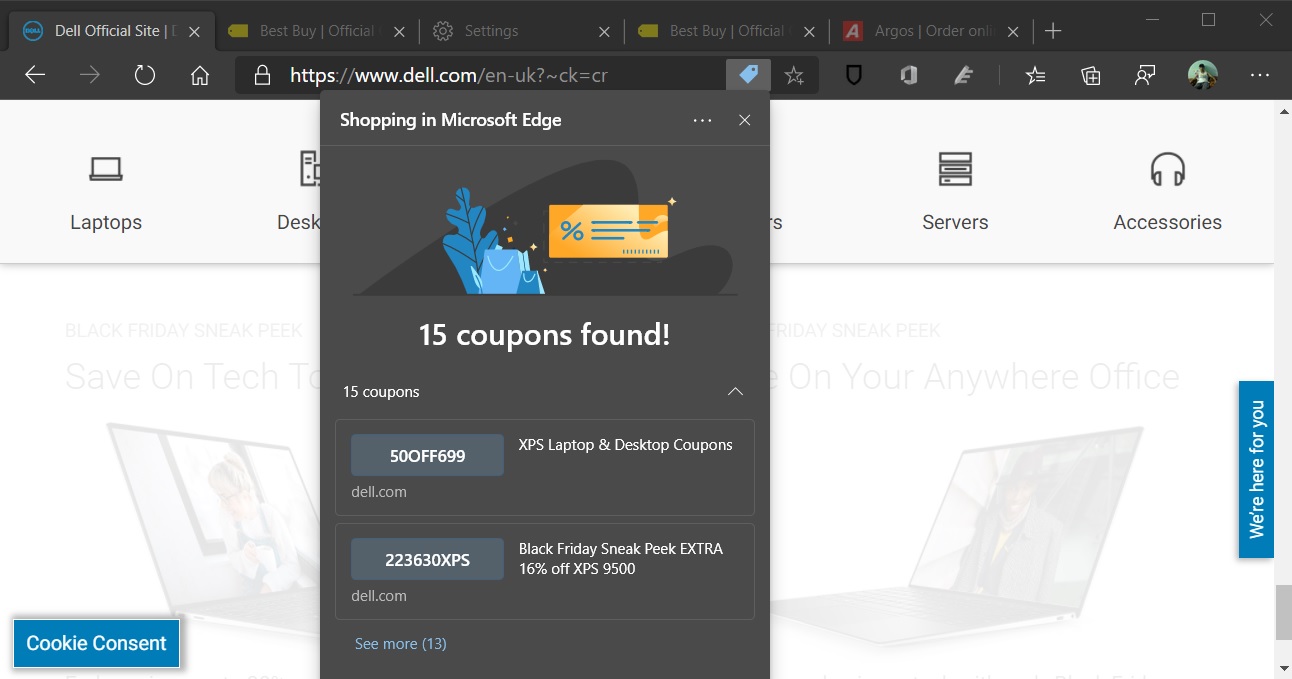 If you're on Microsoft Edge 86.0.622.61 or newer, you can turn on the feature from the settings:
Open Edge settings.
Search for "Shopping".

Enable the option that reads "Save time and money with Shopping in Microsoft Edge".
The feature appears to be rolling out to some users only, so you may not see it in your browser right now.
Microsoft is using its search engine Bing to sniff popular e-commerce and coupon discount platforms and pull out the relevant data. When you visit a shopping site, Microsoft will check its pricing data using Bing and extract the relevant information, and then show discount coupon codes.
The price comparison feature, internally known as "MSColllectionsPriceComparison", was first enabled in Microsoft Edge's beta channels. After testing it with Insiders for more than two months, Microsoft is finally bringing it to the public.
Earlier this year, Microsoft said that this is just the beginning of the shopping journey and Chromium Edge will be getting more features to help you save time and keep more money during the Black Friday, Cyber Monday, Holiday, and Christmas sale.
It's worth noting that the tech giant is also working on a bunch of other new features for the Chromium Edge including new PDF experience, favourites bar, history button in the toolbar, and more.
The post Microsoft Edge now lets you save money on online purchases appeared first on Windows Latest