While the 'real' Surface Pro 8 is rumoured to launch in October or November, Microsoft is still planning to launch the Surface Laptop 4 (a minor refresh) sometime in April sporting upgraded specs.
Surface Laptop 4 will be powered by Intel's 11th-gen Tiger Lake processors, as previously spotted in benchmarks. Like its predecessors, Surface Laptop 4 is also said to offer AMD versions, but there's a catch – Microsoft is planning to use last-gen Renoir CPUs across both 15-inch and 13.5-inch models.
The compact model of the device is currently sold with Intel chips only, but this will change when the lineup is refreshed next month. In addition to the 15.5-inch model, the smaller and more compact 13.5-inch model will also make use of AMD CPUs. So, you'll have a choice of either AMD or Intel for both sizes.
Now, a new benchmark of the AMD version has been spotted online. The benchmark listing refers to "Oemgr Product Name DV", a codename that is similar to what Microsoft has used in the past for the last-gen Surface Laptop, Surface Pro, Surface Pro X and Surface Go 2.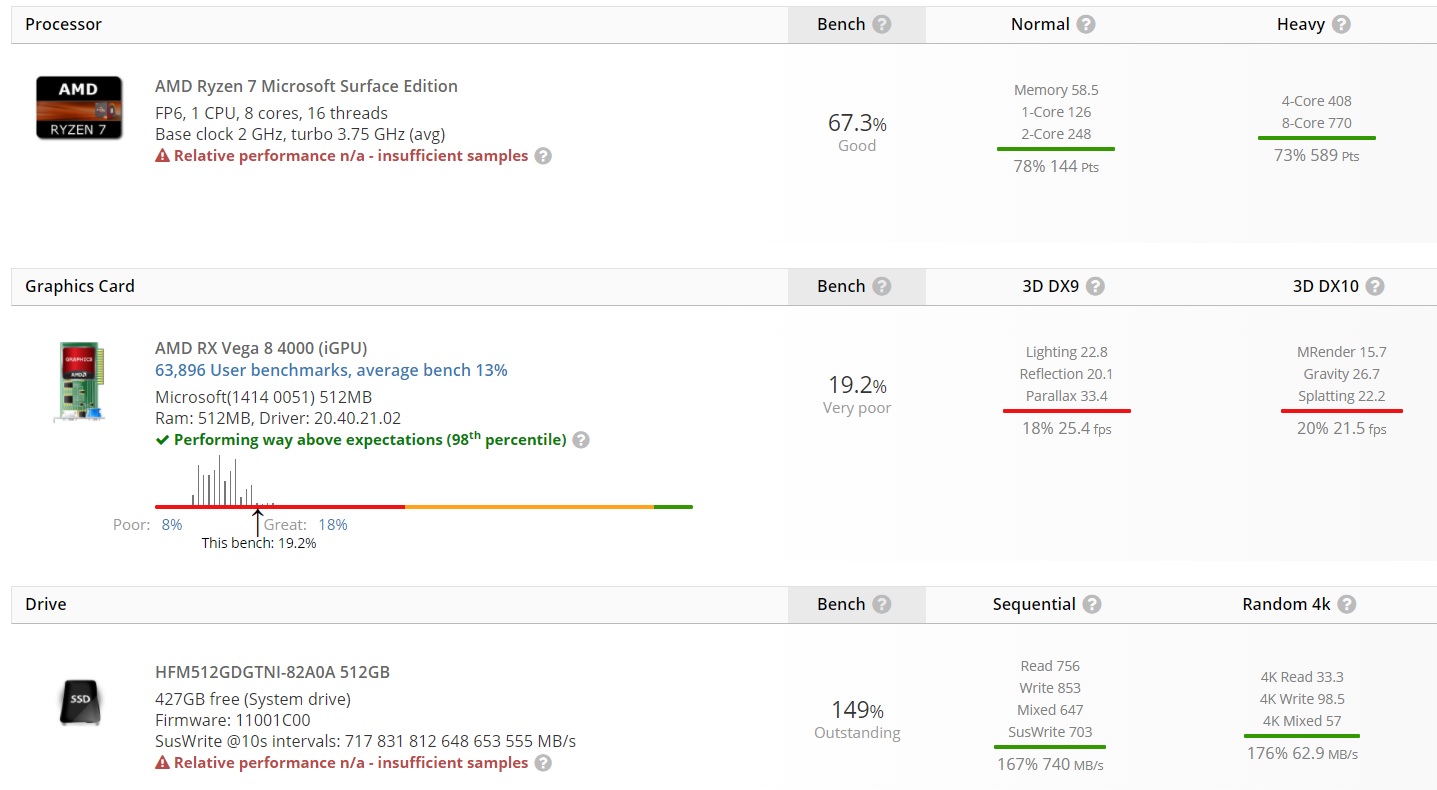 This leaked device seems to be based on the 7nm Zen 2 architecture. It also comes with higher physical cores, better performance than Surface Laptop 3, and Radeon Graphics.
According to the benchmark, Microsoft is planning to use "RX Vega 8 4000" graphics. Based on this leak, it appears that the CPU will have at least 8 cores, 16-thread and a base clock speed of 2 GHz.
The AMD SKU in the Laptop 4 is similar to its predecessor (Ryzen 7 4800U), but performance will be better, thanks to the higher clock speed and optimization done by Microsoft and AMD.
Microsoft also appears to be testing Ryzen 5 4680U and Ryzen 7 4980U CPU for the Surface Laptop 4. On the other hand, the Intel model is said to come with Core i5-1145G7 and the Core i7-1185G7, sporting Iris Xe graphics.
Don't expect a new Surface Laptop with design changes
The design of the next-gen notebook from Microsoft will be "unchanged" from the last-gen Surface Laptop machines. You can expect the same display, as well as the standard keyboard design, and price too.
The post New leaks confirms Surface Laptop 4 with last-gen AMD Ryzen chips appeared first on Windows Latest