Microsoft on Wednesday announced that it plans to replace Calibri as the default font in the Office suite.
As you may be aware, Microsoft Office products currently use Calibri by default. There are ways in Word to change the default settings to anything, but Microsoft is planning to change the default font style in the next big update, which is expected to arrive soon.
The company wants users to select the new default font for Office apps by casting their vote and feedback. Microsoft has announced five contenders for the default font style – Tenorite, Bierstadt, Skeena, Seaford, and Grandview.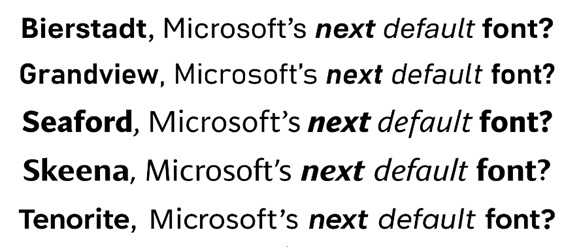 While Office is getting a new default font, Microsoft confirmed that Calibri just wouldn't go away. There are ways in Word and other Office products to change the default settings to anything you want. If you don't like the Calibri successor for some reasons, you can always switch back when this change takes place in future.
How to cast your vote for the new default font in Microsoft Office
Microsoft officially noted that they're listening to user feedback and they'll be evaluating five fonts over the next few months. These new fonts are currently available for testing via the cloud across the popular Microsoft 365 apps, such as Word, PowerPoint, etc.
You can start using the new fonts today and share your feedback with Microsoft on Twitter.
We need to talk. What should our next default font be? pic.twitter.com/fV9thfdAr4

— Microsoft (@Microsoft) April 28, 2021
How Microsoft designed new fonts for Office
A lot of effort has been put into designing these fonts and getting them ready for Microsoft Office. For example, Microsoft has worked with five independent designers to craft the new fonts. This includes world-renowned typographer Tobias Frere Jones, who helped create custom fonts that could replace Calibri as the default.
Likewise, Tenorite font has been created by Erin McLaughlin and Wei Huang and it would be easier to read at small sizes onscreen.
Tenorite offers wide characters to "create a generally open feeling," Microsoft said.
At the moment, it's not yet clear when the default font will be finalized, but the company has promised that it'll look into user comments posted on social media before changing the default font.
The post Microsoft Office suite is getting a new default font appeared first on Windows Latest