With the latest batch of cumulative preview updates, Microsoft is updating Windows 10's News and Interests feature with more options to customize the overall experience.
After the latest cumulative preview update for Windows 10 version 21H1, version 20H2 and 2004, Microsoft has enabled the "News and Interests" feed on the taskbar for everyone. If your taskbar location is set to the bottom and you're using Build 1904x.1023 or newer, you can see more personalized content, including relevant news and interests.
This new update enables the taskbar weather icon on the bottom-right of the taskbar for everyone. Depending on your region, the weather widget will display the current weather forecast (sunny, cloudy, rainy, etc) with the temperature in Fahrenheit or Celcius. When right on the icon, you'll see a new "News and Interests" option.
Previously, users were only allowed to hide or enable the feed from the taskbar menu. In the new update, it's now possible to enable or disable the "Open on hover" feature, which basically launches the feed when you hover over the icon using the cursor.
In our tests, we observed that the hover feature is enabled by default. If you want to disable it, right-click anywhere on the taskbar and open the News and interests menu, and select "disabled" under "Open on hover".
This tiny change can prevent accidental openings and improve the overall experience with the "News and Interests".
In Windows 10 version 21H2 preview builds, Microsoft is also testing other improvements for News and Interests feed.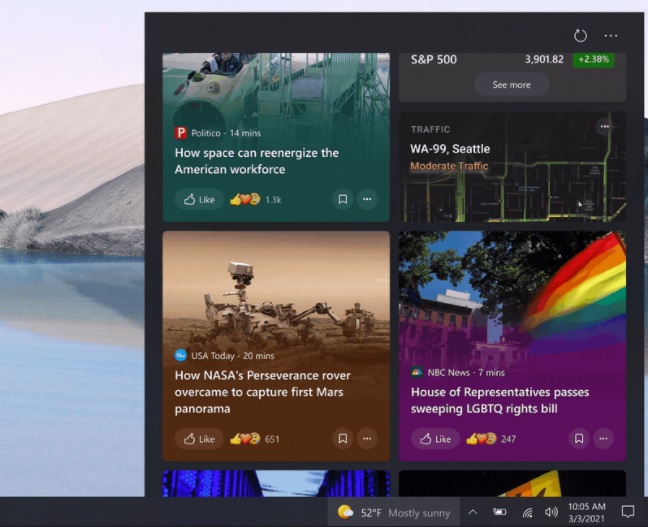 For example, in one of the builds, Microsoft has enabled a new colourful design for the taskbar feed to make it even more delightful to scan and interact with the headlines.
The post Windows 10's News and Interests taskbar feed gets new features appeared first on Windows Latest