The sixth cumulative update of the year is now heading to machines running Windows 10 version 21H1, 20H2, and version 2004. The update is available via Windows Update, WSUS, and Catalog. The company has also published direct download links for Windows 10 KB5003637 offline installers.
KB5003637 is all about security fixes, but you can also expect quality improvements and News and Interests feed on your taskbar if you skipped the last optional patch.
As always, the build number depends on the version of your Windows 10 installation. For example, if you've upgraded to version 21H1, you'll be getting Windows 10 Build 19043.1052 with quality improvements, reduced memory usage, and support for taskbar feed.
For those still stuck on version 20H2 "October 2020 Update", the system will advance to Windows 10 Build 19042.1052 after applying the latest update. If you check for updates today, you will see the following cumulative update on your screen:
2021-06 Cumulative Update for Windows 10 Version 21H1 for x64-based Systems (KB5003637)

Or
2021-06 Cumulative Update for Windows 10 Version 20H2 for x64-based Systems (KB5003637)
Download Links for Windows 10 KB5003637
Windows 10 KB5003637 Direct Download Links: 64-bit and 32-bit (x86).
If you're to download the patch via Windows Update, simply head to the links highlighted above. On Microsoft Update Catalog, locate the Windows 10 edition and version installed on your PC, and simply click on the "Download" button. Copy the .msu link and paste it into another tab to start the download.
Windows 10 KB5003637 (Build 19043.1052) Full Changelog
Key highlights:
News and Interests feed is now enabled for everyone.
News and Interests taskbar setting updated with new options.
Fixes issues caused by News and Interests feed.
Fixes memory leak bug
Fixes issues with File Explorer.
Windows 10's News and Interests feature was first announced in January and it started rolling out to consumers in April. The idea is to relevant information about what's happening in the world with Microsoft News (MSN) integration. In addition to MSN feed, News and Interests is also capable of showing local weather, finance widget, etc.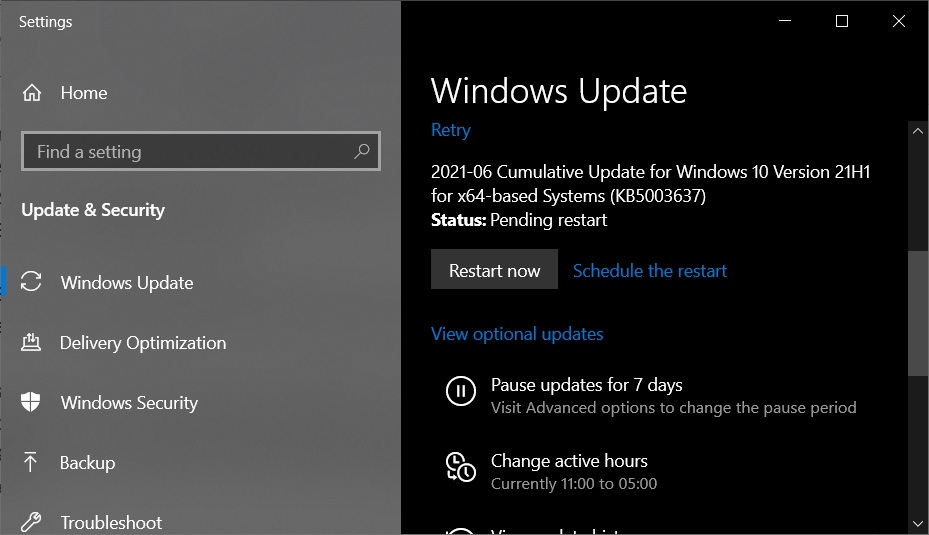 If it feels like another piece of bloat and you don't want and wish it could go away, you can now easily customize the feed and turn off the "hover" feature or disable the feed entirely.
Windows 10 Build 19043.1052 improves the news and interests hover experience and it will no longer launch on its own. You can now also open the taskbar menu (right-click anywhere on the blank area) and select the "Open on hover" option on the News and interests menu to turn off the hover effect.
In addition to News and Interests, Windows 10's June update also addresses an issue that might prevent users from opening apps pinned to the taskbar using Microsoft Your Phone app.
The post Windows 10 Build 19043.1052 is now available, download offline installers appeared first on Windows Latest