Windows 11 Build 22000.160 (KB5005189) has been released for Windows Insiders (Dev and Beta) with several bug fixes and improvements. Alongside the new preview build, Microsoft has also started pushing an upgraded Clock app which brings a new feature called "Focus Sessions".
As you're probably aware, Microsoft has titled today's patch "Cumulative Update for Windows 11 (10.0.22000.160) (KB5005189)" and it will be installed automatically alongside the security intelligence update. A new Windows Defender Security update is also rolling out with general fixes.
Windows 11 KB5005189 includes general quality improvements only, but a new feature is rolling out via Microsoft Store. This new feature is called "Focus Sessions" and it combines the best of Microsoft To-Do and Spotify to help users stay focused and productive during their focus sessions.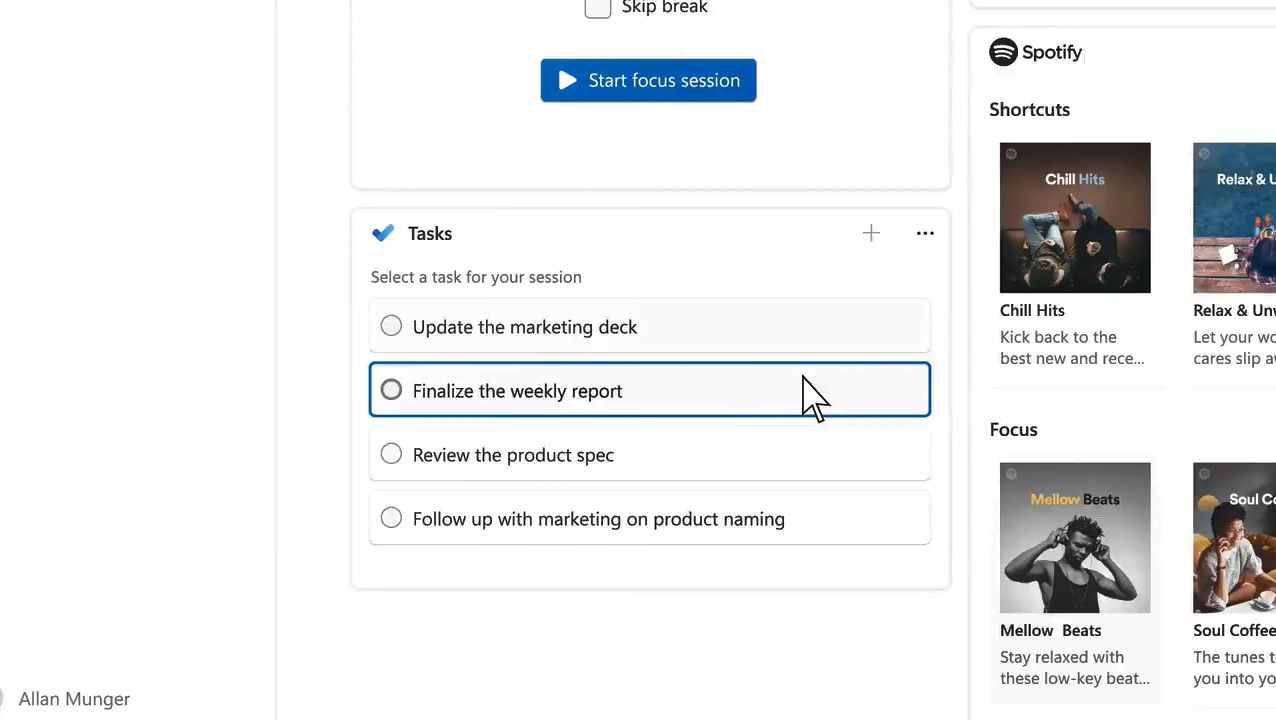 As you can see in the images above and below, Windows 11 now lets you pick a task from your Microsoft To-Do and song from Spotify. The music will play during your Focus Session and you can set how long you want the focus session to be.
Windows 11 Build 22000.160 comes with the following features:
Focus Timer. You can set goals within the Clock and configure time.
Spotify integration: Good music could reduce the chance of getting distracted and Windows 11's Focus Session will use your Spotify account to help you find perfect audio to reduce distractions.
Microsoft To Do: A focus session is incomplete without access to your goals and to-dos. Thankfully, Microsoft has enabled To-Fo integration in Windows 11 to help you manage your tasks without having to manually switch between the apps. Your To do list will sync automatically in the background.
Habit Building: You can also set a daily goal and challenge yourself to stay focused.
Of course, there's a dashboard and it tells you the number of breaks you have taken and the current progress for tasks and goals.
New improvements in Windows 11 Build 22000.160 (KB5005189)
Alongside the new focus session feature, we're also getting new improvements and bug fixes in this release
For example, Microsoft is updating Windows Update's feature that lets you see estimates for how long a restart for updates would take. This feature is now locked to devices that have SSD as the company is working on reliability improvements to HDD devices to accurately predict the installation time.
Windows 11 Build 22000.160 has also fixed issues with the taskbar. For example, an issue where the location icon did not function properly has been fixed.
No Android apps support
When Windows 11 was officially announced on June 24, Microsoft also confirmed that Android apps are finally coming to the app store. Android apps will run on Windows 11 using the Windows Subsystem for Linux and Windows Subsystem for Android.
Thanks to the advancement in Windows Subsystem for Linux, users will be able to install their favourite Android locally and integrate them into the Start menu or taskbar. Android apps will be available for download via the Amazon App Store section in the Microsoft Store, but users will be able to sideload APK files.
Unfortunately, Android apps support is nowhere to be seen and there isn't much technical information available about this new addition to Windows 11. We're expecting further information in the coming days
How to install Windows 11 KB5005189
To install Windows 11 KB5005189 (Build 22000.160), use these steps:
Open Start Menu.
Open Settings > Windows Update.
Tap on Check for updates.

After the download completes, click on the "Install" button.
Reboot when prompted.
The Windows Update is available in the Dev or Beta channel. If the update doesn't show up for download on your device, make sure you have a compatible device or modify the Registry values to bypass the requirements and install the update on unsupported devices.
Known issues in Build 22000.160
Windows 11 Build 22000.160 comes with these known issues:
Start Menu may not detect the text entered by you.
System and Windows Terminal shortcuts will disappear from the right-click menu.
The taskbar will flicker and the search panel may not open.
Bluetooth LE devices can face connectivity and reliability issues.
Widgets menu may appear empty.
Windows Store quality issues
The post Windows 11 Build 22000.160 (KB5005189) released with new feature appeared first on Windows Latest